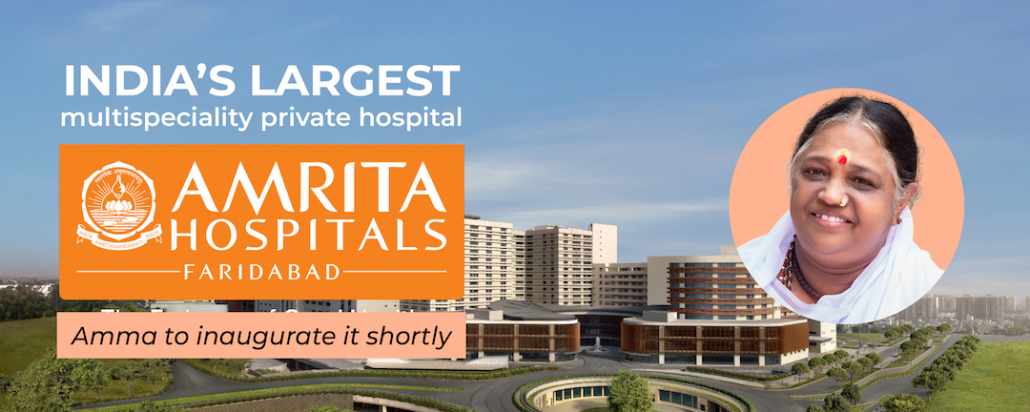 Amma's visit to Faridabad in August
The new Amrita Hospital located in Faridabad, the National Capital Region of India, will house 2,400 beds when fully operational, making it the largest private sector hospital in the country. Spread across 133 acres of land in Faridabad, the multispecialty facility is set to open in August.
Amma will formally inaugurate the hospital on August 24 – she will be on location from July 30 – August 25. 
If you are planning to attend in person, accommodation is now open for booking, until July 14 . Please register soon since space is limited.
THIS FORM IS ONLY TO BE FILLED IN BY PEOPLE WHO ARE ARRIVING DIRECTLY TO FARIDABAD ON THEIR OWN FROM OUTSIDE INDIA.  PLEASE FILL OUT ONE FORM PER PERSON ATTENDING.
ANYONE PLANNING TO TRAVEL FROM AMRITAPURI MUST REGISTER IN THE ASHRAM (JULY 10th & 11th).
THOSE PLANNING TO ARRIVE AT AMRITAPURI AFTER JULY 11 SHOULD HAVE SOMEONE REGISTER FOR THEM DURING THE ASHRAM REGISTRATION OR SEND AN EMAIL TO: TOURSWITHAMMA@GMAIL.COM WITH THEIR ANSWERS TO THE QUESTIONS LISTED IN THE FORM BELOW.